Three Ways to Use Discarded Walnut Shells
In 2009, the Geoge Mateljan Foundation reported that the United States is among the world's six top producers of walnuts. With so many walnuts being produced, there's also a lot of walnut shells that need to be dealt with. Although there are many ways to use walnut shells commercially, there are three main ways someone can use walnut shells in the comfort of their own home.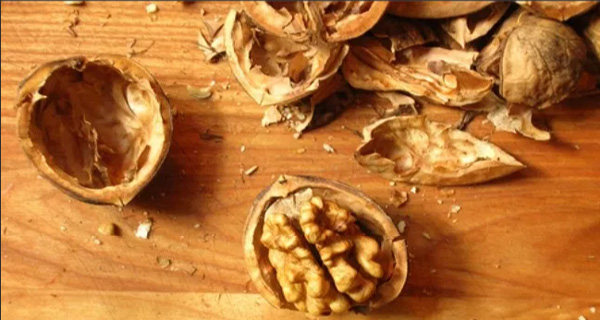 Use ground walnut shells as a gentle abrasive for scouring and polishing. They're good for this because they don't scratch surfaces the way other scouring agents can. You can use the shells on multiple surfaces such as metal, glass and even wood. In fact, walnut shells are so effective at polishing without scratching that jewelers even use them in tumblers to get a sparkling shine on gems.
To use, first crush the shells into as small of pieces as you can with a hammer. Then run them through a very strong food processor--don't use the processor if your warranty doesn't cover use in this way, as the shells are strong and can break blades if you aren't careful. You also can grind the shells down with a mortar and pestle, but you'll need a lot of patience for this. Mix the shells with a bit of baking soda and water to create a paste for scouring pots. You can mix the shells with other substances like furniture polish, according to which substance is appropriate for the surface to clean.
Commercial manufacturers use walnut shell as an ingredient in facial scrubs and other exfoliating products. The walnut shell gently rubs away dead skin, oil and dirt from the body when properly used. You can make a homemade facial and body scrub from ground walnut shells, yogurt and lemon juice. The yogurt provides a base for the shells and has lactic acid for removing dead skin, while the lemon juice is a natural astringent that closes pores. Mix the ingredients together, rub the mixture gently on the face in a circular motion and then wash it off with plain lukewarm water. Depending on your skin quality, you also can add avocado, apple juice, honey, cucumber or olive oil to your walnut shell scrub.
Walnut shells are great to use in pet bedding because they don't absorb moisture, thereby lessening mold and bacteria growth. Since they are natural products of the environment, they are less toxic to your pet than some bedding materials, which sometimes are treated with chemical agents. They also can be tossed into compost piles once you've used them in the bedding. You do not have to grind the shells for these uses. Keeping the shells more intact actually helps in pet bedding because it helps create aeration. The same is true of using the shells in compost--the more aerated the compost is, the easier it is for the material in the compost pile to break down.
SEND ENQUIRY
We receive enquiries in English, Español (Spanish), Русский язык (Russian), Français (French) and العربية (Arabic). Our professional team will reply to you within one business day. Please feel FREE to contact us!