Chinese Paper Thin Walnut –Xinjiang 185
The paper-peel walnut is a new variety developed after years of breeding for thin-skinned walnuts. The varieties are much thinner than the thin-skinned walnuts. The most planted walnuts are Xinfeng and 185. However, some products of Xinfeng have not reached the paper. Leather standard.
Xinjiang 185: The newly cultivated paper-skinned walnut variety is the best quality product in Xinjiang Aksu Wensu County. It is named Wen 185 paper-skinned walnut. It has been declared by the Wensu County Government as a national special agricultural product qualification and is filed by the Ministry of Agriculture. In addition to Wensu County, other 185 walnuts can also reach the standard of paper walnut, but the yield and the rate of kernel are slightly insufficient. The characteristics of this variety are good quality, thin skin, average shell thickness of only 0.6mm, the rate of kernel per kilogram can reach more than 70%, is a walnut variety with a kernel yield of more than 70%, 1.5 times that of Xinfeng walnut. Fully in line with WTO requirements for premium walnuts.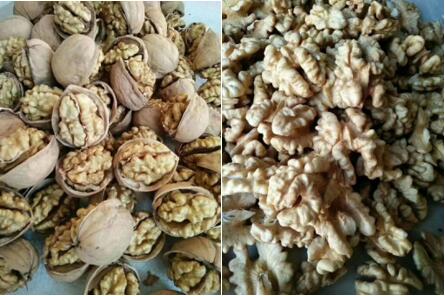 SEND ENQUIRY
We receive enquiries in English, Español (Spanish), Русский язык (Russian), Français (French) and العربية (Arabic). Our professional team will reply to you within one business day. Please feel FREE to contact us!